Appraisal Institute of Canada
Affordable and Social Housing: how qualified appraisers can help
---
May 15, 2017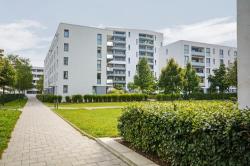 As the Canadian housing market continues to see record prices and demand, the need for municipalities to provide safe affordable and social housing is becoming increasingly apparent. In response to this growing need, the Government of Canada announced in Budget 2017 that, in alignment with the National Housing Strategy, $11.2B would be allocated to affordable housing initiatives across the nation, over the next 11 years. These properties can range from single-family homes to larger apartment complexes, and the roles that qualified appraisers can play in affordable housing is equally diverse.
Affordable and social housing properties can exist as anything from rent-to-own single-family homes to large apartments or seniors' properties owned by cooperatives or non-profits. They all share the goal of making housing safe and accessible, often to at-risk groups. So in what ways can appraisers help municipal governments and other housing stakeholders move this important initiative forward?
There are many significant roles that valuation professionals can play in the affordable housing projects, from the planning and development of new affordable and social housing units to the refinancing of existing affordable housing properties. Because a large portion of the funding announced in Budget 2017 will be allocated to the development of new (or expansion/renovation of existing) housing projects, there will be an increased focus on how vacant land or existing buildings can be developed or repurposed into affordable and social housing.
At the planning phase, appraisers can provide developers with a comprehensive understanding of the housing market under consideration, as well as the impact that potential developments would have on the area. Because the planning of these projects often considers a variety of assumptions, constraints and hypothetical conditions, the unbiased expert opinion of a professional who specializes in understanding and analyzing market trends offers unparalleled insight.
At this stage, housing groups often need to provide their lenders with a third-party estimate of market value of the property before being receiving financing. Qualified appraisers will work with a group's finance team, to ensure that the housing project being planned is beneficial to the client's long-term goals.
Through the design process, valuation professionals can work with a developer's finance professionals to determine any property tax advantages, highest and best use, and value estimates that could impact program operations. During this phase, valuation professionals often also work closely with architects to determine the market value of the proposed property. Appraisers, for instance, can evaluate how below-market vacancies or lower rents can impact property values. This insight highlights the effect that the proposed development has on the surrounding community, but also sheds light on what kind of housing units are needed, and what rents should be set at.
In addition to the new affordable and social housing projects that will stem from Budget 2017 and CMHC's National Housing Strategy, there are initiatives (both underway and in the pipeline) that will see the renovation and renewal of existing housing units. As operating agreements from these properties begin to expire, valuation professionals can be engaged to facilitate the refinancing or restructuring of their existing housing programs. Because these programs are so heavily relied on, involving a third-party appraiser at the early stages can help to accelerate the restructuring or refinancing process, ensuring that programs are not halted unnecessarily.
To learn more about the way that designated appraisers from the Appraisal Institute of Canada can assist in affordable housing projects, visit www.AICanada.ca.
For more information :
Organization:
Appraisal Institute of Canada

Address:
403-200 Catherine Street
Ottawa, Ontario
Canada, K2P 2K9
www.aicanada.ca