BREXIT and POLITICAL CHAOS in Europe
by Gord Hume
---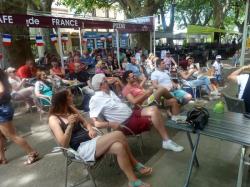 Having just returned from four flights across the Atlantic in the past three weeks, there were only two stories in Europe the fall-out from the Brexit referendum, and the Euro 2016, which Portugal won to the eternal dismay of host France.  The wine quaffed by millions of French who came to their small town squares to watch the football on a tiny television would have tasted bitter by midnight Sunday, although the experience of joining in a town's gathering was a very unique social experience for me.  (See attached picture for the village's celebration of France in the Euro Cup at Goudarge in the Rhone Valley in southern France).
The stunning vote by 52% of voters in Great Britain to leave the Euro zone has had immediate and will have far-reaching consequences.  David Cameron is out as Prime Minister, his legacy forever tarnished by his short-sighted and cynical short-term decision to solve one inter-party political squabble at the expense of his nation.  His reign ends in the next few hours.
The leaders of the "Leave" side, Boris Johnson and Nigel Farage, have also departed the scene after the shocking vote and the realization by both of them that their campaign of misinformation and misleading claims would now have to be implemented.  The Labor Party leader is hanging on grimly, despite 81% of his Parliamentary caucus voting "No Confidence" in his leadership.  That should be a jolly discussion in caucus, if his leadership survives a challenge.
The next Prime Minister of Great Britain will be a woman, Theresa May, and she will be sworn in tomorrow.   The campaigning for the top job became a Shakespearean tragedy, complete with treachery, back-stabbing, false promises and betrayals.  It was fascinating to watch.
Whether Britain will still be great in the future is a major question.  Within hours of the result of the referendum, Scotland's first minister was calmly calling for another referendum on the separation of Scotland from the United Kingdom, because Scotland wants to remain within the Euro zone.  Northern Ireland may well follow suit.
People I talked to in the Netherlands, Belgium, Germany and France seemed surprisingly sanguine about the British vote.  In fact it probably won't impact most citizens of a European nation all that much.  It will certainly have a huge impact on Britain's economy and future. 
The vote turned out to be a very clear choice if voters marked their ballot to leave, it was immigration and the promise to reclaim Britain that was the key issue.  If a voter decided that remain was the way to go, it was based on economic considerations.  Generally, the young, educated and urban voter was pro-remain.  The older, rural and less-educated voted to go.  It exposed a serious schism in Great Britain, one that may or may not be repaired.
Why I share this with municipal officials in Canada is simply this:  be careful what you wish for in politics, be wary of running to the apparent safety of a referendum, and most of all, be very concerned about the mood of voters these days.
"I think there is a lot of disenchantment with the way the European Union has worked, but I think there is also a lot of disenchantment with politicians and with politics as a whole and we've seen some of that played out through this referendum campaign," said British MP Lisa Nandy after the vote.
And that is the key point the growing distrust and disgust with politicians and the political system.  The Australian election last week resulted in a hung Parliament and no clear governance structure.  The US Presidential campaign is currently being bitterly fought by the two most unpopular candidates to ever run for the most important office in the world.  The United Kingdom is in political chaos, and may or may not remain united.  Some European nations are fighting vicious internal battles against parties and politicians wanting to build border walls and move hard right.  The Middle East remains a political minefield.  Russia continues to encroach.
It is a tumultuous world right now for any politician at any level of government.  But there are lessons:  Be careful what you promise.  Be careful what you campaign on.  Be careful what you say to whom.  Do what you say you'll do.  Don't lie to voters.  Have courage.  Show leadership.
It is a dangerous political world right now.
---
Author:
Gord Hume
E-mail: gordhume@municipalinfonet.com
Web: www.gordhume.com



---


Gord Hume is recognized as one of Canada's leading voices on municipal government and is an articulate and thoughtful commentator on civic government and community issues. He is a very popular public speaker, an advisor to municipal governments, and a respected and provocative author.

Gord was elected to London City Council four times. He has had a distinguished career in Canadian business, managing radio stations and as Publisher of a newspaper. Gord received two "Broadcaster of the Year' awards. He is now President of Hume Communications Inc., a professional independent advisor to municipalities.