Scars in Brussels Remain
by Gord Hume
---
The physical scars at the Brussels International Airport remain a visible symbol of the terrorist bombings that occurred several weeks ago.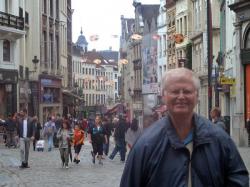 The scars on the psyche of the residents of Brussels are not as apparent, but no less deep. Brussels today is a grey and tired city. Weary residents wander through downtown plazas and markets as combat Army patrols wander the streets. It is a city where fear hides just under the surface.
My train from Rotterdam to Brussels was supposed to stop at Antwerp. An announcement on the train indicated we would not be stopping as the police had closed the station. I asked the conductor why. He looked away, pain and fatigue in his eyes, and said to me, "When the police close the main station there is only one reason."
Later that day I learned that a terrorist bomb threat at the Antwerp station had closed it. On arrival in Brussels, the news of the day was police raids on twenty homes and the arrest of 3 more people that morning alleged to be plotting terrorist attacks.
Municipal government in Brussels is a complex system. It involves a Minister-President, 4 Ministers (2 Dutch, 2 French), 3 Secretaries of State, elected and appointed officials and an amazingly convoluted system that I don't have space to explain. It means this is not a nimble form of government, able to react quickly.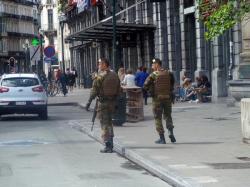 In fact, government in Belgium is a strange mixture of historical balance, nuanced party agreements and short-lived coalitions. As improbable as it was, a few years ago this was a country without a national government for 20 months! They couldn't find coalitions of various political parties to come together.
Historically the Dutch/Flemish and the French population try to co-exist in peace. In reality, as with most political alliances, there are fractures and fissures in the system.
Brussels, with a population of a little over a million people, is the home of much of the European Union administration. That means it has become a symbol in the minds of many as a beaurocratic, boring and bewildering city.
It is also in the forefront of much of the immigration issue that is confronting and changing Europe. About 25% of the Brussels population is Muslim; there are predications that the Muslim population will become a majority of the residents in the years ahead. There was little effort to integrate them into the larger community, at least according to observations and discussions with locals.
There are six different police jurisdictions in Brussels, and according to the locals with whom I spoke they don't talk to each other very much. I rode the subway system from my hotel into the downtown; the Metro station that had been bombed is now reopened but the security remains tight.
The historic downtown of cobblestones and centuries-old buildings still attracts throngs of visitors and locals doing their shopping and celebrating. The Euro Cup is a big appeal these days, particularly as Belgium got through to the final 16. Soccer is huge all over Europe, the fans are passionate, and the tournament in France has provoked national fervor and emotional outpours as their teams win, lose or draw. 
Still, the city has an uncomfortable vibe to it. The visible police presence and the machine-gun armed military patrols are a constant presence. One sees an untended knapsack lying beside a park bench and immediately bad thoughts flare in one's mind.
Security at the Brussels airport is intense but flawed. There are two lines outside the main terminal that stream you under a tent half the line gets their bags X-rayed, the other half stroll through. There is further security inside the airport, and the passport control lines to leave the country are long. If you are flying in or out of Brussels, count on long waits and long lines.
Have the mussels in Brussels. Enjoy a Belgian waffle. Quaff a Stella. Take pictures of the historic centre square. Get out of town.
---
Author:
Gord Hume
E-mail: gordhume@municipalinfonet.com
Web: www.gordhume.com



---


Gord Hume is recognized as one of Canada's leading voices on municipal government and is an articulate and thoughtful commentator on civic government and community issues. He is a very popular public speaker, an advisor to municipal governments, and a respected and provocative author.

Gord was elected to London City Council four times. He has had a distinguished career in Canadian business, managing radio stations and as Publisher of a newspaper. Gord received two "Broadcaster of the Year' awards. He is now President of Hume Communications Inc., a professional independent advisor to municipalities.