Rotterdam Emerging as Leading European City
by Gord Hume
---
Rotterdam is known for having the largest seaport in the western hemisphere.  It is less recognized as a vibrant city that is beginning to emerge as a leading European destination.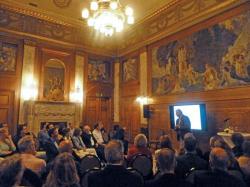 I am just back from a speech last week at Rotterdam city hall.   This magnificent century building with beautiful wood panelled walls and break-taking artworks surrounds a peaceful interior garden courtyard.
I spoke on "Places and Spaces", (see picture) in other words city-building and place-making.  The presentation was very well received, and the reception they put on for me after saw lively conversation and dialogue.
Rotterdam is over 600,000 people today, and a market area of about a million.  The WWII bombings left only three buildings standing downtown city hall, the post office and a cathedral.  As a result, Rotterdam has a much more modern, urban vibe to it than many European cities.  They have been careful in recent years to demand interesting urban design elements, and are encouraging more people to live downtown exactly what many North American cities are pushing.
Rotterdam has a magnificent urban transportation system that most cities in Canada or the US would envy.  I arrived by hi-speed train at their new and magnificent downtown train station.  I took the subway to my hotel, and bought a three-day transit pass that let me walk on to any tram or subway train.  They were all clean, efficient, on-time and well used.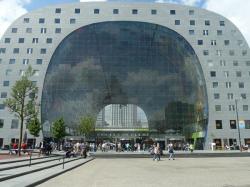 One of their most unique buildings is the new Market Hall--a food market downtown (see picture) which is surrounded by more than 200 highly-sought after apartments that are built into the singular half-oval shape.  The ceiling of the market is Europe's largest artwork, and the apartments peer down on the inside of the complex as well as having balconies and access to the surrounding public square.  The range of foods offered is wide and excellent.  It is a very distinctive and unique design, and is part of the exciting vibe that Rotterdam exudes.
I spoke to the civic leaders at city hall on the importance of building vibrant cities to compete in the 21st century global hunt for talent and to attract investment.  I talked about cities pushing for a higher standard for urban design and architectural innovation, and the importance of public art, trees, parks and green spaces in the downtown.  I used some examples from Canada and the US good and bad ones and some thoughts on Rotterdam's opportunities to develop a local food culture, better attract tourists and encourage a stronger local creative economy.
The hospitality was lovely throughout my visit.  I was impressed with the city's administrative leadership I spent a fascinating half hour with City Manager Philippe Raets talking about civic issues and opportunities and sharing our views of the future of local government. 
The next day I had a private interview with Rotterdam's very interesting mayor, Ahmed Aboutaleb, as part of the research for my next book.   If you want to learn about a really unique leader in northern Europe's often tense cities, Google the mayor of Rotterdam and learn about his story from being born in Morocco to his rise as a Dutch political leader. 
Mayors of large cities in the Netherlands are appointed by the King on the recommendation of the local council and the federal government.  There are 5 Deputy Mayors (Aldermen) appointed who are drawn from the city's economic, social and community leaders.  The 45-member City Council is elected and makes the decisions.  The Mayor has a voice but no vote at Council.  It is a very interesting design of a local government, and one that is intended to promote compromise and accommodation.
About 90% of the revenue for Rotterdam comes from the federal government.  The city has a modest property tax.  There is serious discussion underway to reform local government and how it is financed, including direct election of the mayor, but that debate is going to be divisive and complex.
In the meantime, Rotterdam is doing many very smart things for its planning and urban development.  This is a city on the move, and its future is exciting.
---
Author:
Gord Hume
E-mail: gordhume@municipalinfonet.com
Web: www.gordhume.com



---


Gord Hume is recognized as one of Canada's leading voices on municipal government and is an articulate and thoughtful commentator on civic government and community issues. He is a very popular public speaker, an advisor to municipal governments, and a respected and provocative author.

Gord was elected to London City Council four times. He has had a distinguished career in Canadian business, managing radio stations and as Publisher of a newspaper. Gord received two "Broadcaster of the Year' awards. He is now President of Hume Communications Inc., a professional independent advisor to municipalities.